SOFTWARE TOOL FOR GASKETS
Fluggz is a tool for companies that produce custom-made gaskets. Fluggz automates all steps that are not directly adding value.
Do you make money on a € 100 order?
... with Fluggz you do!
Typical turnover distribution in custom gaskets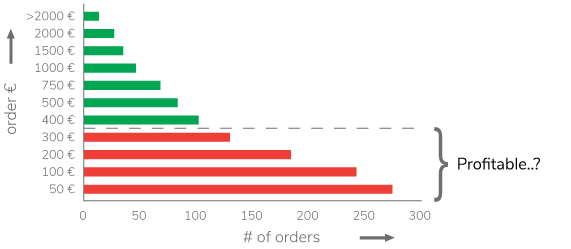 Save 140 minutes on each order
Fluggz cuts out 23 steps from the sales process, saving over 2 hours on each order
Generate free quotations
Fluggz automates calculation, including for quotations that do not become orders
Eliminate human errors
Fluggz minimises the risk of errors, as all processes are aligned
No specialist knowledge necessary
Fluggz reduces dependency on expertise from scarce employees.
Customer friendly
Fluggz is the easiest ordering process for the end client: "convenience is the new loyalty"
Small orders profitable
Fluggz makes smaller orders (the 80% from the 80/20 rule) profitable
Your Style
As manufacturer you can choose from 9 different color profiles for your Fluggz Webshop, ensuring that the looks of the shop match your existing corporate identity. Your customer believes it's your shop and credits you for his excellent customer experience.
Also, you can add to your shop your own company profile, contact data and general terms.
Your materials
To make your work easy, Fluggz offers a very extensive database with several thousands of materials, that you only need to select with a check in the box. Are you missing a material or thickness? We will add it directly.
We also can add your private label materials, that will be available only to you.
Your calculation
Fluggz does not decide how you calculate. That is completely up to you.
However, Fluggz offers you the tools to determine your price level exactly as you like it. For example through hourly rates, material prices and margins, but also startup costs and shipping costs. Even, if you wish, dynamically: for bigger orders a lower margin.
Get to know Fluggz
Would you like to know more about the possibilities of Fluggz? Or would you like to experience a live demo?
Let's set a meeting!
Stay up-to-date with our newsletter
We send the newsletter 4-5 times per year. We keep you informed on the latest development updates of the Fluggz Tool.